IP Video cameras are essential for modern Intelligent Distributed Video Surveillance Systems. Legacy analog cameras lack scalability, image quality and remote access functionality. There are several options to consider when upgrading to IPVS. If the system is small and has existing high-quality analog cameras, a video server can be installed to convert analog video to digital. In many cases, legacy cameras are simply not capable of high-definition and need replacing. CWave® can deliver multiple HD video streams over existing coaxial cable, making digital upgrades cheaper and more convenient.
The following diagram shows connection examples over an existing coax topology. Each CWave® device has one Gigabit and 4 10/100 Ethernet ports and is capable of forming an ad-hoc piconet of up to 16 nodes.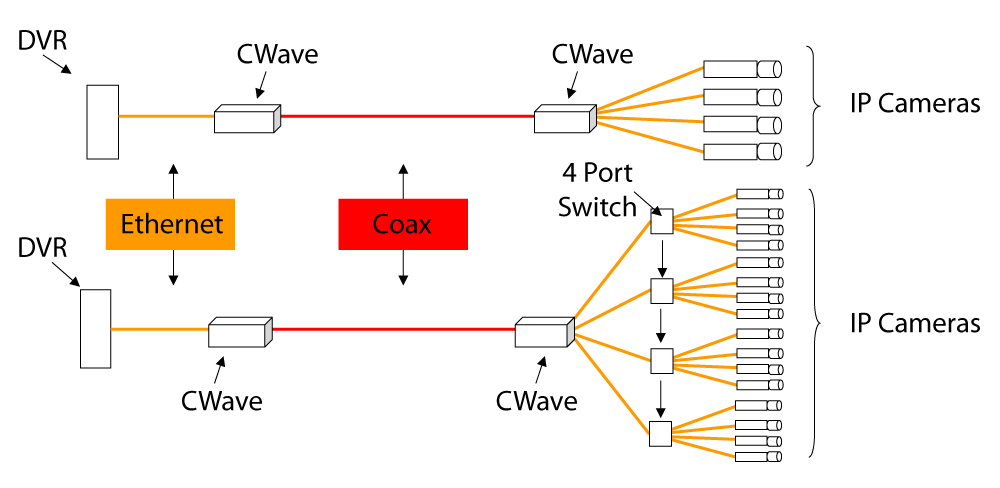 Key Features
Aggregate network bandwidth 400+ Mbps with individual network nodes capable of up to 320 Mbps
No new wires – works over existing coax cables and splitters
Supports point-to-multipoint topology
Frequency range of 3.3 – 4.7 GHz
Guaranteed QoS for video, voice or data applications
Plug and play
Coexists with DOCSIS, cable and satellite services
Triple play with QoS access to any coax outlet
Please contact sales for more details.